Integrated Education and Training in Clark State's Advanced Manufacturing Program
By Michelle Van Noy and Jo Blondin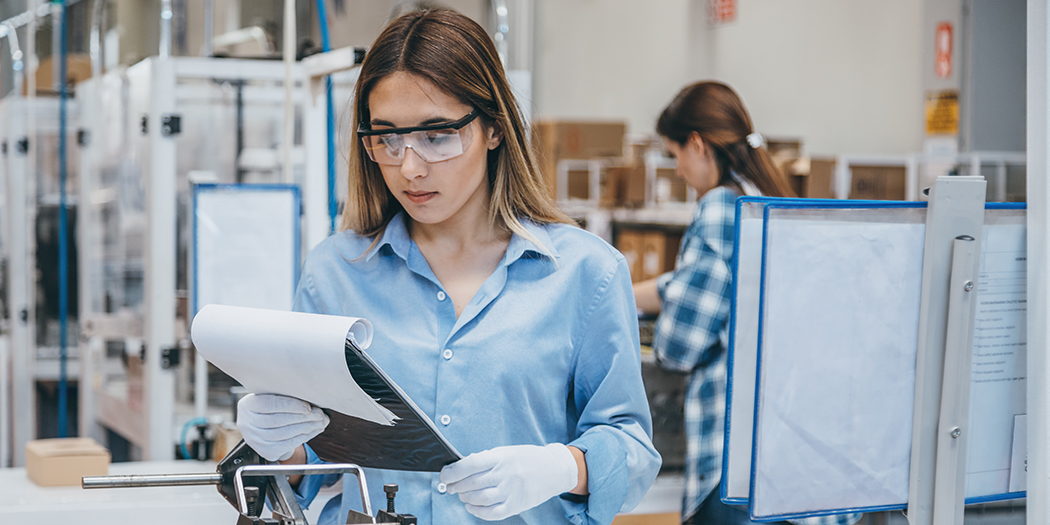 Many students in technical programs do not have the basic math and reading skills needed to succeed in these programs and advance along a career pathway. Most are primarily motivated to learn the technical aspects of their subjects and have little interest in courses focused solely on math or reading. For that reason, placing students in technical programs into traditional developmental math and English courses may not be the most effective way to bolster their skills in these areas. With this in mind, integrated education and training (IET) models, such as Washington State's Integrated Basic Education Skills and Training (I-BEST) model, have attracted interest nationally as a way to help students gain basic skills while learning technical skills. With the development of I-BEST and research that supported its effectiveness, many states and colleges have sought to adopt this model.
Research shows that even in Washington, there is more than one way to conduct an I-BEST program. I-BEST includes a range of approaches that employ a co-teaching model with a technical instructor and a basic skills instructor, structured pathways development, and student supports. Through the Department of Labor's Trade Adjustment Assistance Community College and Career Training (TAACCCT) grants, many colleges across the country sought to adopt variations of the I-BEST model.
Clark State Community College in Springfield, Ohio, developed an I-BEST-like approach to basic skills development in its advanced manufacturing program. This program was the first of this type developed in the state of Ohio. Through our evaluation of this project, the Education and Employment Research Center at Rutgers University documented the implementation of this innovative new approach.
Clark State sought to develop an advanced manufacturing pathway with stackable credentials that included IET as part of the first credential, a foundational skills certification in advanced manufacturing. This short-term certificate was awarded after the completion of 12 credits, including a course with an IET model to equip students with the basic skills needed for an associate degree in manufacturing. This general certificate prepared students for more specific certificates in a manufacturing pathway (such as welding, computer-aided design, computer numerical control, and additive manufacturing) and, when combined, an associate degree in manufacturing.
In this way, the IET approach formed the foundation that students took as part of their technical skills instruction in the manufacturing pathway. The college included IET instruction in two core foundational manufacturing courses: reading and writing in ENT 1000 (Introduction to Industrial and Engineering Technology) and math in ENT 1050 (Manufacturing Foundations). The program also included a career navigator to provide supports to students along this pathway.
This IET model is particularly promising because of its integration into a pathway made up of stackable credentials. Interestingly, despite the intent of making basic skills instruction more practical through its integration into these courses, some students still did not see the relevance of the basic skills instruction and wanted only to focus on the applied aspects of the courses. Nonetheless, this approach offered students the opportunity to complete their basic skills requirement in a way that was more appealing than taking a standalone math or reading course.
Early results show that while this approach may have provided structure and momentum for students' progress, some continued to have challenges with basic skills. Some students may still have to take developmental math courses as they proceed through their program pathway. Yet the integration of basic skills early in the program pathway provides students with a chance to sharpen their math and English skills while staying engaged in the program. The program pathway at Clark State showed promising early results in terms of completion of the foundations certification and continuation along the program pathway—which is often lacking in pathways that require the early completion of a basic skills requirement.
Many of the lessons that have emerged from Clark State's implementation of this approach parallel lessons from Washington State's implementation of I-BEST. First, faculty development is key to making the approach successful. It takes time for faculty to learn about the approach and figure out how to make it work for their classes. Basic skills and technical instructors need time to meet and develop an approach to instruction. It helped that Clark State had some early adopter faculty who championed the approach and paved the way for others. Those involved in the I-BEST-like approach at the college benefited from full- and half-day workshops at the outset to deeply engage with it, but they also valued having meetings throughout the year to further develop and refine the approach.
Also, as with Washington State's I-BEST model, the relationship between faculty members was crucial. Those who collaborated and developed a strong working relationship were more successful, given the high level of interdependence and coordination of the instruction. An essential lesson was summed up by one faculty member: "You need to spend some time and make sure the relationships work."
Michelle Van Noy is associate director of the Education and Employment Research Center at the School of Management and Labor Relations and an assistant research professor at Rutgers University. Jo Blondin is the president of Clark State Community College in Springfield, Ohio.