Elizabeth Zachry Rutschow
MDRC
Elizabeth Zachry Rutschow is a senior research associate at MDRC. She is a leader in MDRC's developmental education, adult basic education, and GED research and was the project director for MDRC's evaluation of Achieving the Dream for five years. She has authored numerous reports, including two literature reviews analyzing the most promising reforms in developmental and adult education, based on the results of rigorous research (Unlocking the Gate and Beyond the GED). She received her EdD from the Harvard Graduate School of Education. She leads CAPR's instruction study.
Recent Publications:
amazzariello
2017-06-06T12:38:13+00:00
By Elizabeth Zachry Rutschow, John Diamond, and Elena Serna-Wallender | May 2017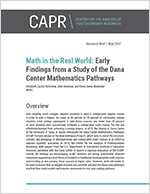 Until recently, most colleges required students to pass a college-level algebra course in order to earn a degree. As many as 50 percent to 70 percent of community college students enter college unprepared to take these courses, and fewer than 20 percent of such students ever successfully complete a college-level math course; the rest are effectively blocked from achieving a college degree.
In 2012, the Charles A. Dana Center at the University of Texas at Austin introduced the Dana Center Mathematics Pathways (DCMP, formerly known as the New Mathways Project), which aims to revise the structure, content, and pedagogy of developmental and college-level math classes in an effort to improve students' outcomes. In 2014, CAPR partnered with the Dana Center to launch a rigorous evaluation of the DCMP.
Overall, the findings are encouraging; DCMP students are having qualitatively different classroom experiences from those of students in traditional developmental math courses and enrolling in and passing these courses at higher rates. However, work still needs to be done to ensure that all eligible students are correctly advised into these new pathways and that their math credits will transfer seamlessly to four-year college partners.
Download
Related Blog Post
>  View all publications by this author
Recent Presentations:
amazzariello
2017-06-20T17:03:28+00:00
In this session, the Charles A. Dana Center, MDRC researchers, and math practitioners (TBD) will discuss successes and challenges of implementing classroom, institutional, and state policy reforms to support the development of multiple math pathways. The Dana Center will begin by introducing the Dana Center Mathematics Pathways (DCMP) and their work to support college faculty, institutions, and states in implementing math pathways at scale. Additionally, a math practitioner (TBD) will share on-the-ground experiences with implementing these pathways within his or her college. MDRC researchers will then share beginning implementation and impact findings from a random assignment study of these pathways at four Texas colleges, including faculty and student perspectives as well as lessons for successfully implementing the pathways at scale within an institution.
Participants
Elizabeth Zachry Rutschow, MDRC and CAPR
Jennifer Dorsey, Charles A. Dana Center, The University of Texas at Austin
amazzariello
2017-06-19T15:11:06+00:00
Mathematics pathways are an effective structural solution to address low persistence and high failure rates in developmental and introductory college-level mathematics. In this session, researchers from MDRC and CCRC along with policy and evaluation staff from the Dana Center will describe how they are supporting and researching the process of implementing pathways, not just within institutions or higher education systems, but across entire states. Presenters will discuss empirical findings on institution- and state-level conditions necessary to scale math pathways, challenges that emerge, and how stakeholders and the Dana Center are navigating those challenges.
Participants
Jennifer Dorsey, Charles A. Dana Center, The University of Texas at Austin
Elizabeth Zachry Rutschow, MDRC and CAPR
Octaviano Chavarín, Community College Research Center and CAPR
amazzariello
2017-05-12T18:31:54+00:00
Colleges across the nation are introducing and expanding math pathways models, which differentiate between developmental and college-level math content and instruction in order to fit students' career needs. The adoption of math pathways represents a radical reframing of math—with a particularly steep learning curve for college advisors and faculty.
In this session, MDRC researchers, college staff, and the Dana Center shared challenges and successes of implementing the NMP at colleges in Texas. Presenters focused on several key topics, including effective student recruitment and enrollment strategies; building new systems for identifying students' math needs; strategic partnerships between faculty and advisors; and ensuring math pathways alignment at the community college and with four-year transfer institutions.
Participants
Elizabeth Zachry Rutschow, MDRC and CAPR
Jenna Cullinane, Dana Center
Russell Self, Trinity Valley Community College
Elena Serna-Wallender, MDRC